EU demand for legislation to indicate origins of food and drink to be flashpoint in talks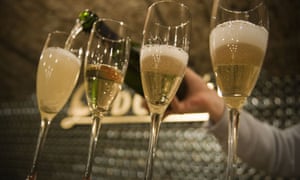 Feta cheese, Parma ham, French cognac and Belgium's sour lambic beers are the latest cause of indigestion in Brexit talks, after the EU stepped up demands on the UK to legislate to preserve the status of European speciality produce.
EU special status for regional food and drink has emerged as a new sticking point in the negotiations, following a bad-tempered week of discussions in which the two sides clashed over the Galileo satellite system, and the EU's chief Brexit negotiator, Michel Barnier, told the UK government to stop playing "hide and seek" over its goals.
In a demand likely to infuriate Brexiter backbenchers, the European commission is calling on the British parliament to legislate to protect a few thousand protected food and drink products from copycats. The EU wants the UK to adopt a near equivalent to its system of "geographical indications" – labels that protect a product linked to a region.
Barnier has said geographical indications are among the issues that must be settled before the UK can have an exit deal, including a 21-month transition period.
But after fractious talks in Brussels last week, a senior EU official said they were proving to be another "difficult issue … where the UK has no position".
"At the moment, we do not have any indication if they intend to protect geographical indications on their market beyond Brexit," they said.
An EU position paper published last September said "necessary [UK] domestic legislation" must be "comparable to that provided by union law".
Read much more:
https://www.theguardian.com/politics/2018/may/28/brexit-indigestion-row-brewing-over-call-for-uk-laws-to-protect-likes-of-cognac-and-feta?CMP=Share_iOSApp_Other